2016-17 SEASON TICKETS NOW AVAILABLE!
Season Tickets at Elland Road are now on sale for the new campaign...
Leeds United 2016/17 Season Tickets are now on sale, with the club offering a unique commitment to its fans.
We are more determined than ever to gain promotion from the Championship and are fully committed to doing everything we can to return this great club to the Premier League in 2016/17.
With the full support of our fans, we believe we can achieve this goal next season.
We are therefore willing to offer a truly unique, one-off incentive to fans who pledge their support early and commit to a 2016/17 Season Ticket before May 31, 2016.
As a clear statement of our intent to gain promotion, in the event that the club does not reach at least the Play-Offs in the 2016/17 season, we will offer all Season Ticket holders who purchase their Season Ticket before the May 31 deadline a 25% refund on their Net Season Ticket price*.
In addition, should general admission Season Ticket sales surpass 15,000 by July 31, 2016, and the club does not reach at least the Play-Offs, the Season Ticket refund, for  qualifying Season Ticket holders only (see below), will increase to an incredible 50% of the Net Season Ticket Price.
WHO QUALIFIES FOR THIS OFFER?
All general admission Adult, Concession and Junior Season Ticket Holders who purchase their 2016/17 Season ticket before the May 31, 2016, deadline are eligible.
Fans who purchase their Season Ticket after May 31, 2016, will not qualify for the refund in the event that the club does not make at least the Play-Offs.  
This offer is not applicable to 'United for 20 Years' Season Ticket Holders.
NET SEASON TICKET PRICE
*Net Season Ticket price is the Season Ticket price minus VAT (20%) and then minus the Football League Levy (3%).
Example:
Season Ticket Price - £445.00
Season Ticket Price Minus VAT (20%) - £370.83
Minus Football League Levy (3%) - £11.12
Net Season Ticket Price - £359.71
25% Refund Amount - £89.93
50% Refund Amount - £179.85
PRICES FROZEN FOR A THIRD CONSECUTIVE SEASON
To further reward the loyalty of our existing Season Ticket holders and to encourage new Season Ticket purchases, in addition to this great incentive, prices are being frozen for the third consecutive year.
NEW PRICING STRUCTURE FOR JUNIORS
Next season the club is aiming to encourage as many junior fans as possible to watch live football and experience the unique matchday atmosphere inside Elland Road.
Therefore, some major changes have been made to our Junior Season Ticket pricing structure as we seek to attract the next generation of Leeds United supporters.
For the 2016/17 Season, we've extended our Under-11s Season Ticket category, which was previously only available in the Family Stand, so that it is now available across all stands.
Prices for our Under-16 Season Ticket holders have also been reduced, with huge savings of up to 45% on last season's prices.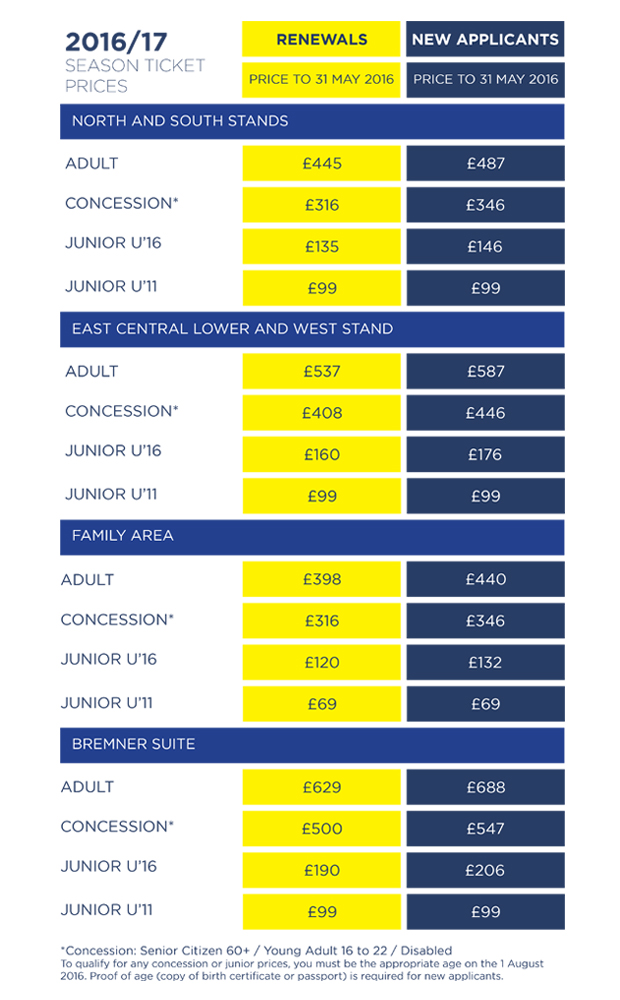 As always, the cheapest way to watch live football throughout the year at Elland Road is by purchasing a Season Ticket. Significant savings of up to 34% were made by 2015/16 Season Ticket Holders, compared to match-by-match ticket buyers.
KEY DATES
Tuesday April 19  – 2016/17 Season Tickets will go on sale, online or in person at Elland Road, to existing Season Ticket Holders and new applicants.
Tuesday May 31  - Deadline to purchase a 2016/17 Season Ticket at the frozen prices and to be eligible for our 'Season Ticket Incentive'. This is also the deadline for existing Season Ticket holders to guarantee use of their current seat**
The traditional application forms will be sent to all existing Season Ticket Holders and any interested new applicants over the next two weeks, in time for our final home game of the season with Charlton Athletic on Saturday April 30.
SPREAD THE COST OF YOUR SEASON TICKET WITH ZEBRA FINANCE
Fans will now have the opportunity to spread the cost of their season ticket over a longer period through a six-month instalment plan provided by our partner Zebra Finance (admin fee applies).
REPRESENTATIVE EXAMPLE BELOW:
Cash price of ticket (including VAT): £445.00
Total amount of credit: £445.00
Total amount repayable: £458.80
Repayable by a first monthly payment of: £87.97 (Including the Admin Fee of £13.80)
Followed by five monthly payments of: £74.17
Interest rate fixed pa: 0.0%
Representative APR: 11.3%
Example based upon an Adult Season Ticket costing £445.00 repayable over six months. Admin Fee is applied at a rate of 3.1% of the ticket price.
SEASON CARDS
New season cards will be issued for the 2016/17 season. Please ensure that your address details are correct at the time of applying for your 2016/17 Season Ticket. Season cards will be dispatched approximately two weeks before the first home League game.
For further information, please call the Ticket Office on 0871 334 1992 . 
The West Stand Ticket Office will be open throughout the Season Ticket application process for fans to purchase their Season Ticket in person at Elland Road.
TERMS & CONDITIONS
**The Club is currently undertaking a feasibility study on relocating hospitality guests from the East Stand Upper to the East Stand Lower tier. As a result, a small number of general admission seats may be affected in the East Stand Lower and North East Corner Upper. Any current Season Ticket Holders who may be affected by these changes will be contacted within the next two weeks.