2016/17 MATCHDAY TICKET PRICES ANNOUNCED
Ticket prices frozen and a simplified category structure introduced at Elland Road...
We are delighted to announce that matchday ticket prices for the 2016/17 season have been frozen at Elland Road, with a new simplified match category structure introduced.
The new season will see the start of a simple two-category pricing structure - rather than three - with games classified as either 'Category A' or 'Category B'.
Last season, 'Category C' ticket prices were used on just three occasions, and the Club will now consider utilising the 'Local Promotion' opportunity in line with Football League guidelines. This provides the Club with the ability to introduce special match ticket prices and fans' discounts on up to four home league fixtures over the course of the season, applying to home supporters only.
As part of our on-going campaign to encourage the next generation of supporters to join us at Elland Road, a new price category for Under-11s has been introduced in all areas of the stadium, with match ticket prices starting from just £5 in the Family Area, £7 in the North or South Stands and just £8 in the West Stand.
As always, the cheapest way to watch live football at Elland Road is by purchasing a Leeds United Season Ticket. Demand for Season Tickets has been strong throughout the summer and has resulted in our highest Season Tickets sales figures since 2004. During the last campaign, Season Ticket holders made significant savings of up to 34% compared to match-by-match ticket buyers.
Season Tickets are available now and, if you haven't already, you can still purchase yours in time for the start of the new season, with junior prices from just £69 and adults from £440. Please call the Ticket Office on 0871 334 1992 to discuss the best available seats or click here for further details.
Next season, the Club will also continue to enhance the matchday experience at Elland Road, and superb food and beverage promotions, which proved to be extremely popular last season, will once again be offered to supporters pre- and post-match in Billy's Sports Bar and the Centenary Pavilion.
Inside the stadium we will also continue to operate the contactless card payment fast lanes and our meal deal structures have been simplified across all stands to help speed up service. Following the introduction of these great value meal deals throughout the stadium, adult match tickets in the South Stand will no longer be sold as part of a meal deal package.
We are also looking at additional pre-match entertainment ideas in the Centenary Pavilion, which we hope to be able to share with you in due course.
We look forward to welcoming you all back at Elland Road for the start of the new season!
Click the grid below to expand the 2016/17 matchday ticket prices.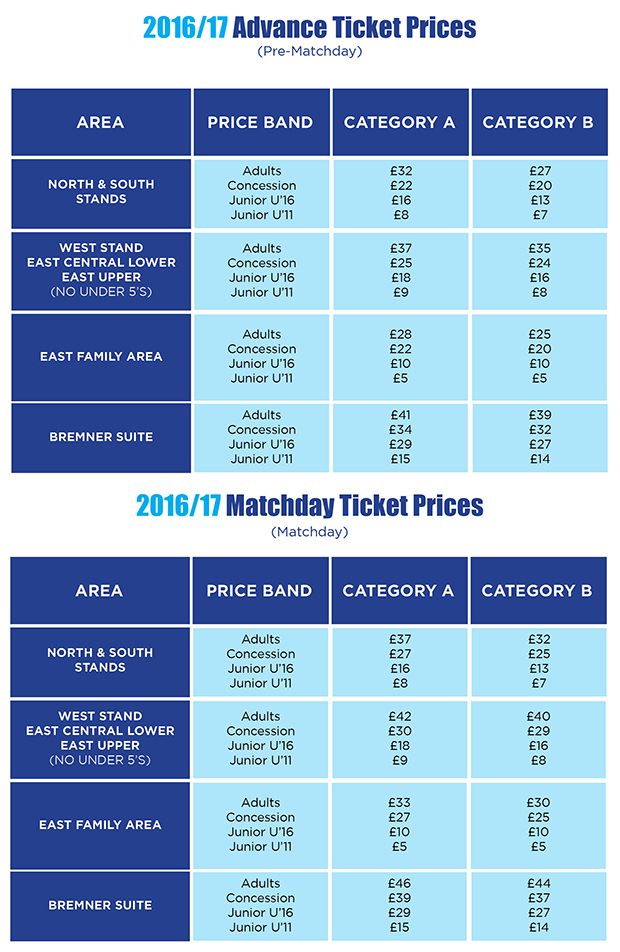 East Stand Upper and South East Corner - open subject to demand
Concessions:
Senior citizens aged 60+
Young adults between 16 - 22
Disabled
Please note, away fans are located in the West Stand